Early 2018, our ambassador member WYLDE has moulted, assisted by Boyfriends Agency. The brand now presents its second skin on a new website, entirely thought around the sensory experience, in the trend of the event « Ce que tu portes te découvre » organized in the hotel Le Pigalle end of last year.
To bring out this new identity, the two pilots of the brand, Clarissa et Marylene, have chosen to let go and to discover themselves to better rediscover WILDE. A new mantra « Break down barriers » has naturally emerged from this intimate travel, as a call to focus on intimacy, to express ones emotions and creativity in a free way, in order to open oneself to others, to accept differences and to come closer: « We believe in those who give, those who liberate, those who marvel, those who reach out, and those who follow their instinct. It is for them that we create WYLDE ».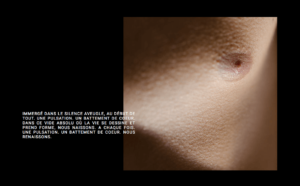 The « About » page immediately gives the new website the sensible and organic color : heart beats for the sound universe, WILDE's W animated like an electrocardiogram, raw pictures of body parts and just some sentences that resonate like a prose poem. So many signs that evoke the (re) birth, the self discovery, the freedom of the body and the the senses to go to other ways of doing and being, more transparent.
The garment as language therefore takes more than ever a free interchangeable second skin dimension at WILDE. It reveals the identity, breaks down the barriers between internal and external worlds, between bodies and genders. The brand thus reaffirms the universal and unisex dimension of its creations, already introduced in several collections, namely the capsules of unique upcycled pieces « No Genre » and « Cut Up » end 2017. The clothe then becomes a « bond between oneself, the world and others, a bond that frees shackles, that « pulses », that unites », always strictly respecting Human and the planet.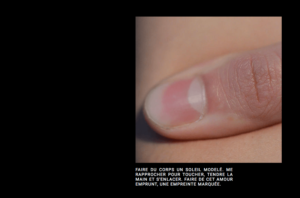 The 2018 spring-summer collection « Beat Slowly », ready to buy on the new e-shop, is a perfect illustration of this bias. Under the sign of slow life,the fresh, minimalist and asymmetric pieces that compose it have been thought to fit all bodies and be worn in  many different ways, like the bicolor  top « Nat », reversible and modular thanks to an innovative system of removable panels.
A soft and decidedly contemporary chameleon universe, to discover in pictures below in the film-campaign directed by Axel J. Sannino from Boyfriends Agency that presents thez collection. Slow and beautiful.