Through an initiation to personal expression provided by famous names among the world of creation, About A Worker (AAW) gives textile workers the opportunity to become designers.
Thus, the purpose of the brand is to rethink the fashion process by giving workers a chance to reveal their history and their vision of the industry through the design and production of collections in collaboration with the team.
These collections don't respect the standard season's calendar but revolve around a country of production.
For its first collection, AAW chose to collaborate with Mode Estime, a reintegration project in Saint-Denis, Île-de-France.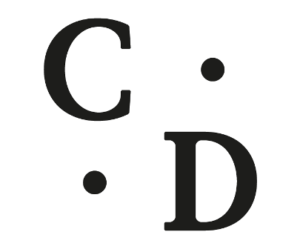 Back from New York in 2018, the designer Claire Dartigues, creates her brand with the aim to put human and sustainability in the center of creation.
The core of her creative process is to give a second life to second hand materials. the brand is made of 3 lines : « Nouveau Paris », a collection of bags that can be turned into capes, a ready to wear collection mainly based on upcycling and a « Artwear » collection that values garments in considering them art artworks.


La Petite Mort (slow death) is a young street-wear brand  that merges contemporary urban codes with Andean textile heritage, while working on minimizing the environmental impact of fashion.
Beyond that, La Petite Mort is an introspective travel. Though its mixed pieces that combine the refinement of natural fibers with a minimalist style, each collection has a story to tell,…
Created by Marine Bigo, Minirine is an "urban sporty" and "artwear" clothing brand, made in Roubaix. The raw materials (recycled polyester yarn) comes from Italy and Holland and are printed in Roubaix with water-based inks.
The upcycling concept is made naturally in the workshop : the falls of each printed fabric are gathered so that they can be reused on accessories or patched on larger pieces.
Minirine's mantra :
"Make your body a support for moving art. Everywhere at anytime …"


Fashion as a form of art, the work of leather as passion, that's the meaning of NaSoNgo., Sonja Göggelmann is the founder of this young leather line of bags and accessories, based between Paris and Munich, in a pure slow wear and short circuit.
The creator, designer of leather, manufactures all her pieces herself in her Montreuil workshop, from different types of leather that she selects rigorously, either in Italy from local producers or by hiring in resource centers such as La Réserve des Arts in Pantin (93). All the pieces are unique or made in very small series.


SIDE PROJECT is a collaborative lifestyle brand highlighting the art and craftsmanship of many fashion and design professionals already involved in other artistic projects.
SIDE PROJECT focuses on a particular aspect of their know-how and lets their creativity express itself in the service of a common aesthetic vision.
Focused around a women's ready-to-wear line, SIDE PROJECT offers a varied creative universe that unfolds from jewel to object design. Simple and elegant lines, noble materials and an ethical and responsible production, SIDE PROJECT frees itself from the tendencies to propose a timeless cloakroom through iconic pieces.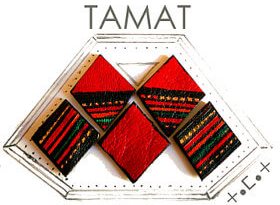 "TAMAT", which means "woman" in Tamasheq language, is a solidarity-based and fair project promoted by Melissa Wainhouse, aimed at enhancing the traditional know-how of tanning and leather painting of Touarègues women refugees in Burkina Faso.
From these painted leathers, the designer hand-makes bags, accessories and jewels in her workshop of Montreuil.
Melissa Wainhouse comes from the theater world and did split her time between France and Mali between 2005 and 2014 by investing in artistic creation projects. With TAMAT Creations, she wants to continue to build relationships and build bridges across borders.


Atypique Atipico develops new approaches to implement the ecological transition in industrial production chains for small structures.
The brand has developed the Trench AA as an example to show that significant improvements in terms of environmental and social impact can be achieved through the application of an eco-protocol in the design and sourcing phases.
In parallel, Atypique Atipico is developing the Canastaaa project in Guatemala, enabling women to become skilled craftsmen through an open-source upcycling design program.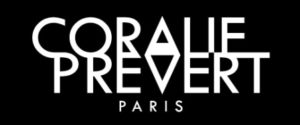 Named after her creator, the brand Coralie Prevert was launched in Florence. it is a universe of unexpected prints with vibrant colors and contemporary patterns.
The capital of Renaissance inspires her passion for the decorative arts, the love of nice material and the respect of tradition.
It is a world allowing the meeting of roots and travels, harmonies and extravagances, forms and words.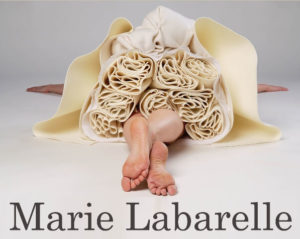 Former architect, Marie Labarelle launched her women garments brand in Paris in 2005. With the conviction that she could better  express her dreams in being directly connected with textile, body and landscape, she set the basis of a wandering creativity.
During her trips she searches for singular and resilient fabrics that she ennobles herself, using non-polluting natural dyes made of plants.
Her love for fabric and the huge attention she gives it drove her to invent a range of "zero waste" dress forms that necessitate a minimum cut and without any loss.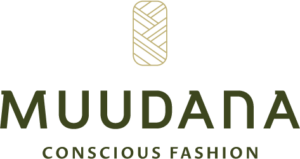 Established between Paris and Cambodia, Muudana is an engaged  fashion brand which combines traditional know-how and eco-design in a modern, elegant and refined style.
Muudana's commitment is to offer a respectful and inclusive vision of sustainable fashion. The brand combines local and global, tradition and innovation, past and present, production and transparency to create clothes that make sense.
Muudana was born from the observation that traditional organizations and know-how tend to disappear in favor of a standardized fashion, harmful for mankind and environment. Therefore she wishes to propose another model and create the most clear, ethical and ecological production chain possible, in several countries of the world.


With a great respect of the know-how and the sense of the detail, PARIA studio, created in 2016 by Morgan Levy, frees itself from the trends, the seasons and proposes essential clothes with clean lines.
Attached to the perfection of materials, cuts and colors, PARIA studio is inspired by everyday life to imagine each piece with style and humor. The new collections are complementary to the previous ones.
From collaborative experimentations, PARIA studio gives meaning to the garment following its manifesto. PARIA studio dares to take time. Time to imagine, to select the best materials, to meet the best craftsmen, to commit to a fair production, the time to create.


Super Marché was born from the desire to use already existing clothes to offer a modern cloakroom made in benevolent working conditions.
The brand is upcycling through the recovery and transformation of already existing garments. The result is unique pieces for men and women, designed to get style, be comfortable, convenient and qualitative.
The garments are manufactured in sewing workshops that provide professional insertion in Paris and Saint-Denis.

Umòja, which stands for "unity" in Swahili, is a shoe brand that combines tradition, modernity and innovation while enhancing African textile crafts with respect for the environment.
The brand uses 100% natural and innovative materials hand-crafted by small artisan cooperatives based in several countries in Africa to create aesthetic, singular, cultural and artistic sneakers.
Short circuit, transparency, craftsmanship, adventure, solidarity, environment are at the heart of Umòja's approach.