Parisian designer, engaged citizen, settled in Goutte d'Or district since 2004, Sakina M'sa is anchoring her brand on an economic model that is enriched by the hybridization between fashion and sustainable development.
Today, the collection Sakina M'Sa is made with prestigious fabric, recycled from famous fashion houses.
The second line, named "Blue Line" has been developed with a blend of recycled dungarees.

Atelier Bartavelle is a creative studio and a clothing brand, settled between Paris and Marseille.
Its inspiration is linked to the South and the Mediterranean sea for its lights, its contrasting atmosphere and its color schemes.
The studio works on elaborating cross-cutting engaged creative projects.

Born in Buenos Aires, with an Italo-Argentin nationality, Eva Zingoni lived in Madrid and Turin before settling in Paris where she lives since 18 years. After designing studies in Studio Bercot then in IFM, she worked during 10 years in luxury field.
With her eponym brand, created in 2010, she uses textile falls from fashion houses to produce very limited series of women collections made in France.

Located in North of France in Roubaix, P.O.P creates her collections in making a point of honor to rely on the French textile heritage.
P.O.P works with a voluntarily restricted network of suppliers, where sincerity and mutual respect play an essential role in the collaboration.
The exclusive garments and accessories collections are mixing unique pieces and numbered series and are realized in qualitative French materials, worked in straight, contemporary and casual lines.

An 100% eco-designed & Made in France designer wardrobe. Uncompromising style, W.Y.L.D.E. rethinks the garments with graphic, bold and ultra-trendy cuts.
The designer Clarissa Acario selects vintage garments, then transform and  enriches them to create unique and timeless handmade pieces.
Since 2016, the brand also offers « Capsule » collections whose parts are made from 100% recycled fibers, in limited series, respecting an ethical and local approach.

Les Récupérables, is an environmentally friendly brand that follows the principles of upcycling/reuse and is part of the social and solidary economy.
The very limited creation series are made from textile collected from several resource centers in Ile-de-France and by its partners : Le Relais and Emmaus.
The manufacturing is made by social integration or small Parisian workshops.

Noémie Devime creates high-end, engaged carftwork ladies clothing, between unique pieces and numbered series of garments.
The slow fashion manufacturing way saves textile heritages from world communities while promoting innovation. The cutting is minimalist and simple in qualitative natural fabrics.
Image-garments are also shown during happenings. They are not commercialized but have an artistic and federative vocation.


Initiated by the designer Marcia de Carvalho, knitwear specialist, the clothes and accessories lines of Chaussettes Orphelines (Orphan Socks) are knitted in France with recycled yarn, from collection of socks and woolen scraps.
Conceived in the rules of the circular economy, embellished with noble and natural materials, such as pure wool and Mohair, and imprinted with social values, the Chaussettes Orphelines (Orphan Socks) collections are innovative, creative, soft and warm.

Hummade is a revue that is entirely dedicated to slow-wear and art-wear. It was born from the will to take another look on the garment in mixing ethics and aesthetics, societal and artistic impact.
The editorial team of Hummade thus creates written and photographic contents whose subjects are the makers and designers who stand up for this engaged and human notion of the garment, around the big issues of responsible fashion today.


Everything starts from the raw textile material : the thread. It is with it that Elise Redel aka G I S E L E, stylist by training, chose to create and transmit her emotions. Embroidery as an artistic expression to tell her world has naturally imposed itself on her. Indeed since several years G I S E L E is fascinated  by this ancestral technique that she approaches in a very contemporary way.
Far from figurative embroidered motifs, this passionate of the  nineteenth century romantic movement, creates her embroidery as abstract paintings. It's the gesture of embroidering that guides her. Soft and contemplative inspirational embroideries emerge that encourage dreaming, evasion and evoke mineral and organic elements.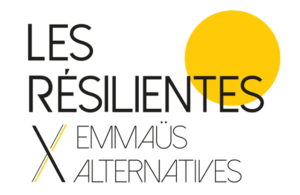 Les Résilientes is a studio that aims to develop a sustainable redesign activity through a training and social integration program in the heart of the sorting center Emmaus Alternatives in Montreuil (Paris area).
The project Les Resilientes link design, social integration and recycling to create collections of unique objects, made in series from resources destined for the dumpster.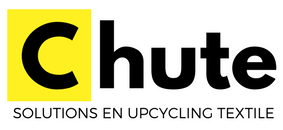 Majdouline Sbai, a sociologist specialized in environment, created Chute : a platform of textile up-cycling solutions for textile companies and waste collection organizations.
This company offers concrete solutions thanks to collaborations with designers and together holds action research projects to find solutions to build a more ethical fashion today and to put the textile sector at the service of sustainable local development.